Opening up for cross-Atlantic cooperation
December 6, 2017
By editor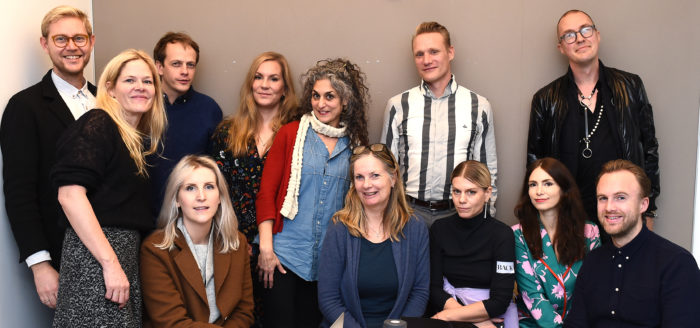 As part of the recent visit from the Nordic Fashion Association to New York, some of the members took time out to further explore possible platforms for cooperation between the Nordics and the USA. The initial dialogue was very promising, and plans for further cooperation were discussed.
Visiting The New School Parsons and Brooklyn Fashion & Design Accelerator/Pratt led to fruitful talks and concrete invitations to step up a cross-Atlantic cooperation furthering sustainable issues linked to both education, start-ups, mentoring and accelerator programs. At Parsons, a rather large group of Norwegians and Swedes from NFA and the Norwegian consulate met with Otto von Busch, Associate Professor of Integrated Design, School of Design Strategies, Timo Rissanen, Assistant Professor of Fashion Design and Sustainability, and Laura Sansone who teaches and runs Textile Lab, which is the East Coast affiliate of Fibershed.
The discussion centered around both local use of wool, the amazing New York State Regional Yarn Source Book that Sansone had compiled (and which we got to see the next day at BFDA) and their sustainability courses for students. "Each year we have 1000 students going through our 'sustainability systems' course," Rissanen explained. As both von Busch and Rissanen have been included with their bold takes on 'wardrobe studies' in a recent book published in Norway ('Opening up the Wardrobe', edited by Kate Fletcher and Ingun Grimstad Klepp), the discussion also touched on Kate Fletcher's recent blog post and addressing the elephant in the room: pricing. "We do some consulting with businesses," explained von Busch, "and we recently did bring this up at a rather high level meeting, and were surprised how willing they were to discuss that in the future growth needs to be in value, not volume".
As the on-going KRUS project has many touch-points with Laura Sansone's work, the Norwegians were eager to have her join a conference on localism in Norway in May, and both Rissanen and von Busch will be invited as lecturers and in other capacities to Nordic events – as the Nordic Council of Minister steps up their focus on the creative industries, with sustainability as the under-lying driver.
Another over-riding theme during the visits, is the disillusionment young students increasingly have with the fashion industry – with consequences for the recruitment of the next generation of designers. "The reputation of the industry as one of the worst polluters has damaged its standing severely," said Gisle Mardal, Chairman of the Nordic Fashion Association. However, the hope is that a new generation will have sustainability very much integrated in their thinking when they enter the industry, as they have been steeped in a new systems' thinking.
At the Brooklyn Fashion & Design Accelerator this became even more clear. Pratt originally had an incubator program, but as the founder of the accelerator, Debera Johnson, had seen so many amazing students give up when 'reality bit' them – she decided to up the ante and build a mix of an academic community, mentor program and business set-up which is currently also building an international alliance. "My dream is to create a global fashion network, a pot-luck where we all bring different dishes to the table," explained Johnson.
The open premises on the 7th floor of an abandoned pharmacy industry building sharing spaces with many other incubators and start-ups, several in the food industry (the roof boasted a vegetable garden), shared the floor with Pratt's Master's program for design. However, the area that the BFDA occupied was a mix of a closed area production unit with five, soon six Shima Seiki machines, linking stations and cut & sew facilities; and open studios where the designers interact – but have separate work-areas. A big open area hosts 'lunch & learn' and other community-facing events; including a much-coveted yearly prize show. They have 8000 visitors a year.
"For small start-up designers, we offer a very affordable set-up, where they can access production for smaller runs. Sustainability needs to be at their core, and we give them the tool to both implement and communicate what that is; but without dictating what take on sustainability they focus on," explained Tara St. James, who mentors, runs the cut & sew division and her own company Study New York. She also explained about the very stringent interview process. The fabric library, which features sustainable materials and fibers, is also her 'baby'. As Icelandic wool was actually featured as part of the library, some of us immediately made a note of looking into how Norwegian wool could also be included.
"Climate-positive wool is very much part of what we want to be working with," said St. James, and showed us Sansone's source book, which represents the most amazing piece of sourcing work. St. James was also invited to come and lecture in Scandinavia in the near future, and was eager to exchange experiences and knowledge, as an Oslo Fashion & Textile Lab is about to be established. And for Johnson's new global fashion network, there was no hesitation: We're in!
The trip was made possible by the Nordic Council of Ministers, with a contribution from the American Embassy in Oslo.